About Good Health Chiropractic & Acupuncture
Our Patient-Centered Practice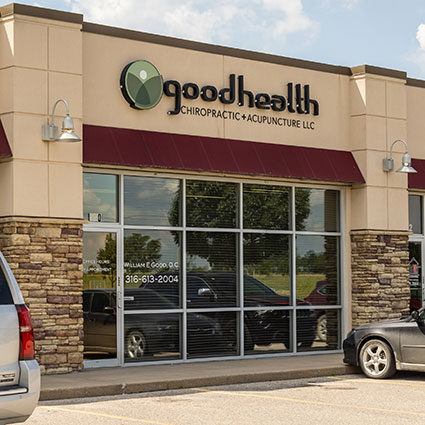 Since 2008, Wichita chiropractor Dr. William Good has provided safe, gentle and effective treatment for community families, with an added emphasis on clinical nutrition and acupuncture for optimal wellness. Our practice is patient-centered and we'll leave no stone unturned in our efforts to help you regain your health.
Our Community Mission
At Good Health Chiropractic & Acupuncture our purpose is to help our patients obtain and maintain a high level of wellness. We believe our bodies were created by God to heal, repair and self-regulate. Our fundamental approach is based on this basic concept. Our goal is to build and develop long-term relationships with our patients. We take the time to listen carefully to the worries and concerns of those we treat, and the end result is the cultivation of valued friendships. We want our patients to know that they're loved, not only by us, but by God as well. It's our mission to demonstrate that caring in some small way to every patient.
Our Practice Approach
We're aware that when a patient comes in with a physical complaint, there are many factors to consider. Our experience has demonstrated that unless the cause of a problem is addressed, it's difficult to restore balance, repair and regeneration to injured bodily systems.
Our goal is to build and develop long-term relationships with our patients.
Our primary focus is state-of-the-art chiropractic care, but we also provide additional tools to help our patients regain their health more quickly. Painless electrical acupuncture is a part of every treatment, and we often suggest lifestyle modifications to improve brain-body communication and balance. These suggestions can include dietary change, exercise and specific nutrients or supplements.
We also want to share our belief that the creation of a healthy family begins with healthy children. As the nervous system controls all function in the body, it's important for kids to get a good start in life by optimizing that function. We firmly believe that it's easier to raise healthy children than to fix broken adults. We encourage you to make chiropractic care "a family affair."
MEET DR. WILLIAM GOOD »
Our Practice Difference
We stand out in the community in several ways:
Our office is run in an efficient manner. We value your time, and won't subject you to annoying waits to see the doctor.
We always offer a complimentary consultation to determine if you're a good candidate for the personalized care that we offer.
If you're in acute pain, or just wanting to start care, we will always do what we can to get you in right away.
Our practice is patient-centered and faith-based.
We'd love to welcome you to our office! We're here to help even the toughest cases, so give us a call today and let's get started. We have free, close, well-lit parking and accept most insurance.

About Good Health Chiropractic & Acupuncture | (316) 613-2004