New Patients at
Good Health Chiropractic & Acupuncture
If you're coming in to see us for the first time, we'd like you to know exactly what to expect. We make every effort to make sure our patients feel welcome and comfortable; we want your time with us to be positive and uplifting. Welcome!
Your First Visit
If you've already downloaded and filled out your new patient paperwork, this first visit will take approximately 30 minutes; otherwise please budget 45 – 60 minutes of time. We recommend that you dress comfortably and bring a valid ID and your insurance card, if applicable.
Dr. Good will initially provide you with a complimentary consultation to make certain that he can help. This will be followed by
A comprehensive review of systems
A thorough physical exam, which includes neurologic and orthopedic testing
X-rays (when indicated)
The first visit is usually followed by your first gentle chiropractic adjustment.
Your Second Visit
The second visit is usually scheduled for the following day. During this time, Dr. Good will review your examination results and X-ray findings to help you better understand the source of your problem and what can be done to correct it.
If needed, nutritional support will also be discussed, as well as specific treatment recommendations and payment options.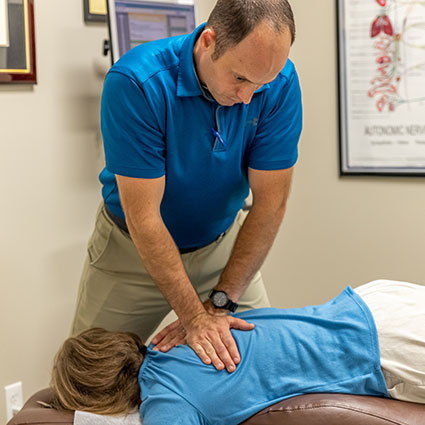 Subsequent Visits
Regular chiropractic treatments take about 10 minutes. We pride ourselves on our office efficiency and there's usually very little waiting time.
Each treatment will consist of a brief scan of your spine and an adjustment, followed by painless electrical acupuncture at specific meridian points. If needed, you'll also receive additional, gentle therapy through either electrical muscle stimulation or intersegmental traction. This method of consistent treatment produces maximum results and faster, more efficient healing.
Most Insurance Plans Accepted
We work with almost all insurance companies and are preferred, in-network providers. We also accept Medicare, and offer family plans as well. If you have any questions about your coverage, please feel free to call or email our office; we'd be happy to assist you.

New Patients at Good Health Chiropractic & Acupuncture | (316) 613-2004