Meet Dr. William Good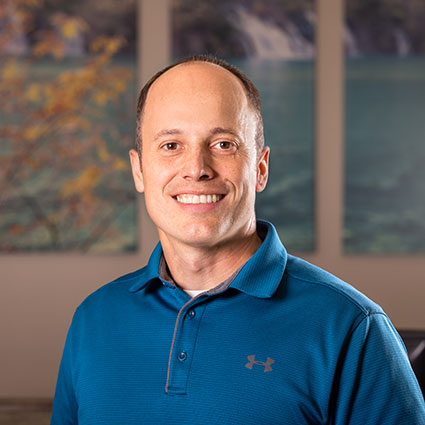 Since 2008, Dr. Good has delivered high-quality chiropractic care to hundreds of Kansas families, from newborns, toddlers and teens to sports enthusiasts, parents and aging seniors. He's passionate about safe-guarding the health potential of his patients, and his faith-based practice is a testament to this singular focus.
A Proud Legacy
Dr. Good is a fourth generation chiropractic physician,who grew up with a tradition of helping others.
I was influenced by observing and hearing about the quality care given to patients by my father, grandfather, and great-grandfather and seeing sick people get well.
The Appeal of Chiropractic Care
Dr. Good received his Doctorate of Chiropractic in 2008, graduating from Cleveland University in Kansas City. As a graduate student, he had the privilege of completing his internship at the VA Medical Center. His time there took him back to his military roots, and he found it very rewarding to help veterans returning from combat situations. He was grateful to be able to ease their physical pain and help them to integrate into everyday life, an experience he's never forgotten. While still in school, he was also heavily influenced by two of his instructors, who demonstrated a deep love for the chiropractic profession. They consistently conveyed a passion and joy in getting people well, which led to Dr. Good's current patient-centered model of healthcare.
The Desire for Clinical Excellence and Community Service
Dr. Good is passionate about expanding his knowledge to help his patients attain optimal health. He's undergone extensive study in the following fields:
Acupuncture: Clinical certification
Clinical Nutrition: 300+ course hours of postgraduate education
He's also a member of the American Chiropractic Association and Kansas Chiropractic Association. Likewise, he is on the Board of the Berean Academy, as well as being an active participant in the various ministries at his church. EXPLORE OUR SERVICES »
Family Time
Dr. Good is married to Olivia, and they have five children: Ellie, Esther, Leo, Oscar and Ruthie. They all love the outdoors, so you'll often find them taking adventure hikes, fishing, camping, swimming or hunting. Contact Good Health Chiropractic & Acupuncture today to schedule an appointment with Dr. Good.

Dr. William Good | (316) 613-2004