Acupuncture in Wichita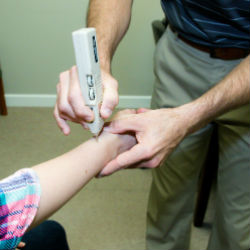 Acupuncture has been around for over 5,000 years. It's an effective ancient Chinese healing technique designed to not only alleviate pain, but to promote overall health and well-being. It's been our experience that acupuncture, combined with skillful, professional chiropractic intervention, is a pairing second to none. Their symbiotic relationship addresses nervous system dysfunction in an elegant manner, contributing to faster healing and a more effective response.
Electrical Acupuncture
Dr. Good has hundreds of hours of training in advanced acupuncture. We recognize that chiropractic addresses issues from the inside – out. Electrical acupuncture views dysfunction more from a peripheral aspect— from the outside – in. Our gentle, combined approach produces results that provide our patients with faster healing in a more comfortable and affordable manner.
Acupuncture, combined with chiropractic care, unblocks and repairs meridians that may be responsible for nervous system imbalance. We'd love to help you restore your health through the safe and effective methods we provide. Give us a call today.

Acupuncture in Wichita
Good Health Chiropractic & Acupuncture | (316) 613-2004